The Original Seal Snorkeling company - 2009
We provide everything!
the best activity in cape town
snorkel center / hot showers / privacy

Award winning hospitality

CASEY NEISTAT - "...that was pretty amazing"

our guides are amazing

enter a new beauitful world
Experience the passion
Seal Snorkeling with Animal Ocean in Cape Town is the ultimate eco-friendly, all-natural wildlife experience on your holiday.
We are THE TOP rated activity in Hout Bay and the FIRST CHOICE for everyone when Seal Snorkeling. We are the ORIGINAL Seal Snorkeling company and the only ones with a DIVE CENTRE. We offer hot showers, change rooms, internet, privacy and security at our facility. We contribute to conservation and research and are the ONLY choice for your experience with the seals.
Join us and plunge into the cool Atlantic ocean and snorkel with hundreds of playful Cape Fur seals, in the wild ! You can interact with them in their environment, on their terms. If you love getting salty and experiencing the natural world, this is the best thing to do in Cape Town !
Let's Go Snorkeling! Conditions next week look generally good on the Atlantic ocean with very little swell and light winds predicted. It's a good time to join us – 30/9/22
Welcome to Animal Ocean's Seal Snorkeling website.
We are the seal snorkeling experts and are dedicated to getting you in the water with these fantastic creatures. Our teams of passionate marine guides are keen to share the beauty of the ocean with you. Join us at our Snorkeling Center and enjoy hot showers, private change rooms, free Wifi and coffee. Our vessels take 10 snorkelers and will get you to the snorkeling site, Duiker Island, quickly and safely. Cape Fur seals are most active and abundant in the heat of Cape Town's summer.
So beat the heat – join us!
Cape Fur seals occur naturally on islands around the southern African coast and are found nowhere else in the world. Duiker Island in Hout Bay is home to about 5 000 seals and lies within the Karbonkelberg marine protected area, part of Table Mountain National Park, Cape Town. These Cape Fur seals are not fed or trained, they behave naturally and interact with snorkelers on their own terms. Seal Snorkelers can always see seals in the water and there are no sharks present. This is a wildlife adventure that brings you close to playful and inquisitive wild animals in their natural habitat. We treat them with respect and keep 1m away at all times.
Whats included
Snorkeling


Experience




*everyone welcome

Snorkel with Seals

Yes

Two Snorkel Guides per group

Yes

Hot Chocolate and biscuits

Yes

Hot Showers and Changing Facilities

Yes

Wetsuits Provided

Yes

Snorkeling Equipment

Yes

Price (per person)
R650/R990/pp

for locals/internationals respectively
Images (click to enlarge)
When and Where?
Please arrive on time, The time you booked online is the time to arrive. We meet at the Seal Snorkeling Center – 8 Albert road, HOUT BAY, Cape Town. We are NOT in Albert Road, Salt River, Cape Town. See directions below.
Trip Duration
About 2.5 hours. This includes 30 minutes to sign in and kit up for briefing and traveling to and from the Harbour and island. On average, visitors spend 30 mins – 40 mins in the water.
Snorkeling Center
The Seal Snorkeling Centre is a converted house right near the harbor. It took us a long time to find a "Brick and Morter" home for our Seal Snorkeling operation and we are proud of our building. Changing rooms, hot showers, and free Wifi are enjoyed by our guests. We have a lounge to relax in while you wait or warm up after the dive. It's a great place to be and we hope to share it with you.
Snorkeling conditions
The seal snorkeling site is very shallow (1 – 5m deep) and you will see the bottom clearly most days. This is the ocean so there can be small waves and a choppy surface. The water temperature varies from 8C – 13C. This means that the water is COLD! The boat is always nearby and you can return to warm up if needed.
Do seals bite?
Yes. Most bites are playful tugs or gentle pulls, by small juvenile seals who are curious and mean no harm. We do have to remind everyone that these are wild animals and we do occasionally have male Bull seals behaving in an aggressive manner. This might be blowing bubbles or pulling a flipper off a snorkeler. This is normally between October and November, as this is the breeding season and these large Bull seals defend a territory that sometimes extends into the water. We always avoid these large males and move locations when one appears. Any wild animal experience has an element of unpredictability, and seals are normally non-aggressive, but we do get exceptions. The guides are well trained to spot any aggressive behavior and act accordingly.
Experience needed?
You need to be able to swim confidently – please note that this is a SWIMMING ACTIVITY. For your own safety, the skipper reserves the right to assess your swimming ability and to ask you to remain on the boat should they deem you unfit for this activity. Motion sickness is a problem for some – if you suffer from motion sickness this experience may not be for you. We recommend one motion sickness pill the evening before and one on the morning of your trip if you are prone to seasickness and want to join us.
What is provided?
We provide all snorkeling equipment, a seal guide, transfer from the office to the harbor, boat ride, educational briefing, water, biscuits, hot chocolate, and hot water to pour in your wetsuit after the snorkel, along with tea and coffee at the office and a HOT shower.
What is the best time to snorkel with the seals?
The best time is whenever you can and time allows! Summer is generally best – September to May. But we run trip from August to June, weather dependant.
Age limits?
Children who intend to snorkel need to be 15 years or older. It is important that you let us know if children are joining as part of your group, as we need to make sure that the conditions are not too rough. Boat viewers can be from 6 years old and upward.
Sea Sickness
Please take medication if you are prone to motion sickness. Once we are with the seals we cannot return until after the snorkel has finished, 1 and a half hours at sea.
What equipment do you provide?
We have fleece lined 5mm one-piece wetsuits with hoods. We also provide 3mm vests, 3mm gloves, booties, fins, silicone masks, and snorkels. Our equipment comes in a range of sizes to suit everyone. *Please note – no full face masks are permitted for this activity.
Are there any sharks?
No, the island is situated on the cold Atlantic side of Cape Town where temperatures range between 8C -15 C. Great White Sharks prefer seal colonies on the east coast of South Africa. The shallow reefs and thick kelp forests prevent large sharks from coming close to Duiker Island. The well-established and long-running seal-watching ships have not seen a shark on the island in over 20 years of operation.
I wear glasses – can I join?
We recommend bringing contact lenses if you wear glasses, as the glasses will not fit under the snorkeling mask.
I am pregnant – can I join?
If you are less than 6 months pregnant and would like to join us, please indicate this on your booking and provide us with a doctor's note certifying that you are fit for physical activity.
Seal boat viewing?
At the moment we are not offering any boat viewing of the seals.
Transport?
No. UBER is the cheapest and most reliable but any taxi company will happily transport you to Hout Bay harbor. There are also the City Sightseeing hop-on hop-off busses that operate a route from Cape Town to Hout Bay and around the peninsular.
Booking policy?
Bookings are confirmed only when payment has been received. Our online booking system only takes payment in full by credit card. Irregular bookings may be refused at any time. Please be careful not to double book yourself onto multiple time slots, if this occurs there will be a 10% admin fee on the refund unless it is within 48 hours, then no refund is given.
Refund policy?
We will only cancel when conditions are unsafe to go out. We try cancel trips 24 hours before arrival but will cancel at short notice if the ocean is unexpectedly rough. A full refund will be given if we cancel due to poor weather conditions. We only refund via the same method that we received the payment from.
Cancellation policy?
Cancellation within 48 hours of departure and no-shows will not be given a refund. All cancellations prior to 48hrs incur a 10% administration fee.
How does payment work?
Please fill out the booking form with all the relevant details. Please make sure your contact details are correct, we may need to cancel the trip or re-schedule. Master Card and Visa credit cards are accepted through the online payment and booking system. Please contact us directly for EFT payment options. If the trip is cancelled due to bad weather we will try reschedule the trip or refund you.
Limitations
Please be aware that this is a swimming activity – for your own safety, the skipper reserves the right to assess your swimming ability and to ask you to remain on the boat should they deem you unfit for this activity. This is also a physically demanding activity. We cater up to size 3 XL wetsuits (130kg) – if you are unsure ask us.
Rent a Camera on the Day of your Trip
Take your memories home with you, by using our underwater cameras. These underwater cameras will capture photos or video, and our staff will give you a quick lesson on how to use them. Push one button and capture the day on a Micro SD memory card that is yours to take home. All cameras are available for rental on the day.
Cost
R350 with memory card to take home
R200 without memory card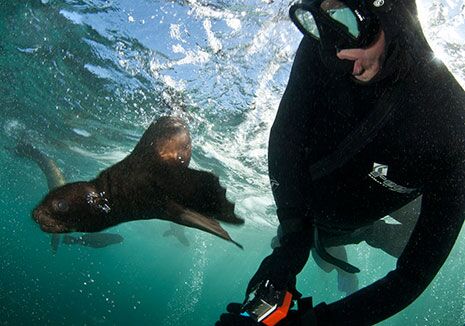 Responsible Eco-Tourism – Giving back to Fur seals
Its important to us that we are a benefit to the Cape Fur seals of Duiker Island. We put their interests first and through our trips and actions support their welfare. We support a range of conservation, education and environmental activities. We want to make a difference and be a benefit to Cape Fur Seals. We enjoy working with passionate researchers and organisations making a difference in the conservation world.
Giving back…
Rescuing Fur seal pups and disentangle Fur seals when possible
Support academic institutions by providing free boat and crew to Duiker island to conduct research on Cape Fur Seals.
Co-ordinate and rally the public to join beach Clean-Ups.
Educational talks about Eco-tourism and the South African marine life to school groups.
Provided boats and skilled staff for marine conservation field work trips around the South Africa coastline.
Provide video footage and photographic images and services to NGO's and researchers.
Images (click to enlarge)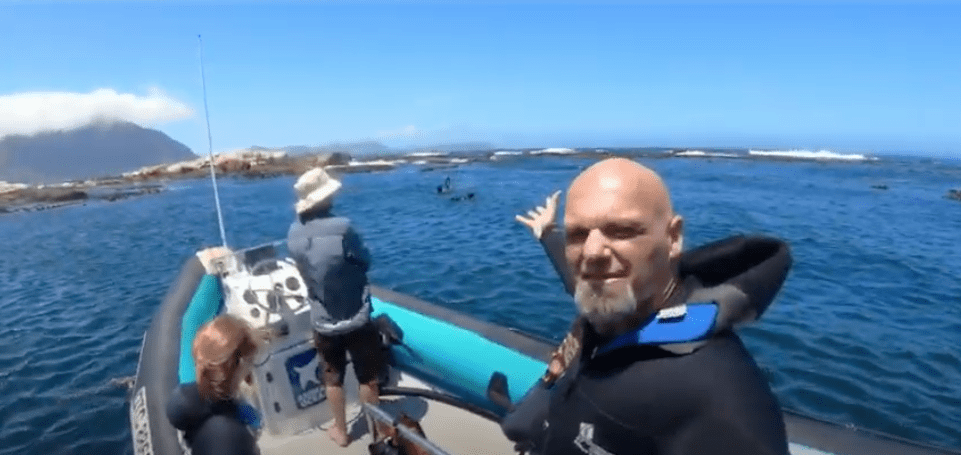 National Geographic Magazine
OFF THE COAST of Cape Town, South Africa, two powerful ocean currents meet. The rugged coastline produces powerful swells at a place where the reefs come out of deep water, making it the perfect playground for fur seals—social, playful creatures that surf the waves like dolphins, just for fun. – Read Article
Getaway Magazine
"Shark-cage diving? Pffft. In this issue of Getaway Magazine, our intrepid journalists went exploring the underground playground of some furrier sea creatures. Turns out, snorkelling with seals is a lot of fun." – Read review
Africa Geographic Magazine
"It doesn't take much to interact with a seal. Curious by nature, these fascinating creatures will swim right up to you and investigate your neoprene-covered body. The young pups especially seemed intrigued by our long flippers which they nibbled away at when we weren't looking." – Read review
Expertise and logistics for wildlife film makers
Animal Ocean We share our passion for the ocean with everyone we meet and because of this, amazing films are produced. Our team at Animal Ocean has assisted, skippered, filmed, dived and traveled with the BBC, National Geographic Magazine and many others. Animal Ocean is unique in translating the vision of any producer as we are keen observers of the natural world and have that photographic eye and mindset. We provide skilled water personal and equipment of the film industry and help cameraman get what they want… from seals surfing shallow reefs, surfers towing into giant waves or feeding Humpback Whales, and our favourite thing to do is snorkeling with seals ! … Ask us, we know how to get it done.
Our featured work …
Netflix ANIMAL – Squid nesting sequence 2021
Smithsonian – Oceans Greatest Feast 2020
Disney's – Dolphin Reef 2018
BBC Blue Planet II – Surfing Dolphin sequence 2017.
BBC Natures Great Events – Sardine Run 2008.
National Geographic Magazine conservation articles for Thomas P. Peschak in Seychelles, Mexico, Galapagos, South Africa, Namibia and Peru
Contact us to help make you film shoot a success on the ocean around Cape Town or South Africa

To send an enquiry please use our form below. If you'd like to make a booking please use our booking form.
Contact Details
Merch. for sale.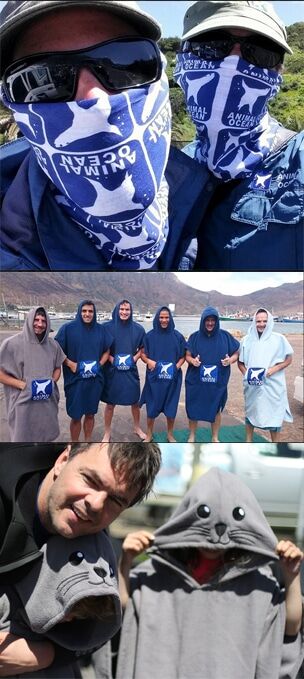 Find Animal Ocean Seal Snorkeling at the Animal Ocean Offices
8 ALBERT ROAD, HOUTBAY, CAPE TOWN
GPS : 34 02'04" S 18 20'58" E
Contact us
8am-4pm : +27 (0)72 296 9132
The best way to get around Cape Town is with your own hired car. We recommend RentaCheapie for the friendliest, most affordable car rentals. Check them out if you are thinking about hiring a car for your visit.
Public Transport – MyCiTi Bus
Route 108 Hout Bay – Hangberg – Sea Point – Civic Center You will then need to walk to 8 Albert road from the bus stop, this will take between about 5 minutes Allow for 1.5 hours to reach us on time Plan your trip on the MyCiTi website